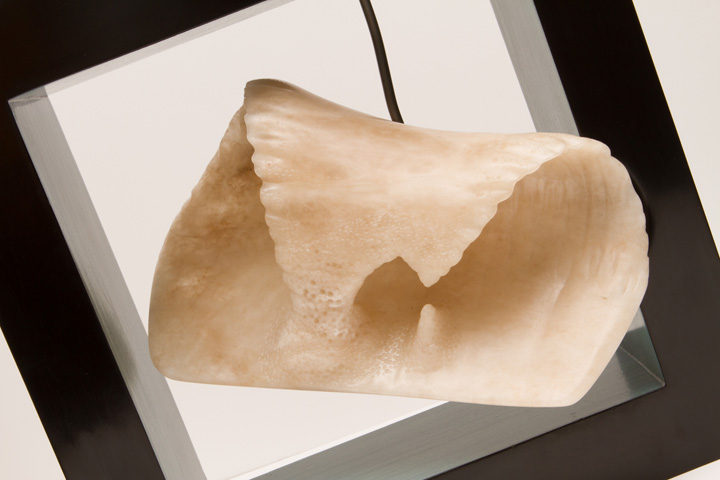 Inner Child
Dimension: 18" x 12" x 11"
This is my first marble (Italy). This piece represents my inner child. Very detailed as a self-portrait. This child is playing with snowballs, because I recalled cheering up after snowstorms. The drilled heart of 3" deep in her chest defines the passion at the core of the child as well as the openness to the world. For some reason I was compelled to drill an open heart to show that as adults we are vulnerable and this is what makes us unique and strong
$ 7,998
Cybèle :
Déesse de la fertilité
Dimensions: 5" x 5,5" x 10"
First piece, 2010, made of limestone (Manitoba).
The piece represents the birth of my art and this is from a birthday card I received in 2010 and was inspired by it. Cybèle participated in an exhibition in New York: Catharine Lorillard Wolfe Art Club 117th Annual open exhibition, October 1, 2013 through Oct 25, 2013.
Cybèle is available in plaster or bronze on demand. Posters are also available!
$2,498 (original)
$459 (hydrostone painted red)
Posters are also available!
Céleste: Time Space
Dimension: 5"x 6"x 8" with plinth: 111/4"
BC Soapstone and the base is made of chlorite (Japan). This piece is an inspiration with an amalgam of my favourite symbols: sun dials and a globe. Named Céleste as it relates to the sky, cosmos. It represents our origin and my strong desire to explore the world and being global.
$2,398
Yin Yang
Dimension: 2" x 1 ½ " x 1"
Jade form New Zealand, 2016. Abstract hand sculpture, a walking stone. Inspired by the stone fractures and by the feel of my hand touching, a comforting form resulting in a figure that looks feminine and masculine!
Sold!
Got My First Salmon
Dimension : 3" x 2"x 1 ½ "
Soapstone from Japan, 2016. Inspired by two sculptors: one that is a specialist in bear carvings and another one that leaves the plinth to its sculptor. I wanted to sculpt a diving bear, but it turned out that the bear had a posture that said "don't touch my dinner, I fished it by myself.
Not for Sale
East Meets West
Dimension: 16" x 18" x 2"
A relief made of limestone (Indiana). This piece started with a sketch which shows the fleur-de-lis as a symbol of my French heritage! In the center, the west coast scene in the middle that signifies the 4 elements: water, earth, air and fire. It also comprises of 2 symbols of infinity, and the Métis culture. The full Canadian heritage, Aboriginals and other settlers from the world. The infinity Symbols show continuity between the east and west, a united consciousness! I sense that Justin Trudeau could identify himself very well with this sculpture.
$2,498
Wave: In the Flow
Dimension: 12.5" x 7" x 5.5" (frame 15" x 8"x15")
Third piece, 2013, made of alabaster (Spain). The texture of the stone is quite fluid like very thick liquefied dough and like water, it is translucent as glass. It was shortly after hammering a corner of the stone that it revealed itself to me as a wave. I had neither a vision nor sketch for that piece because water is so dynamic. So to pursue the challenge, I studied how waves behave and I represented my understanding of the greatest force of nature. Our precious nourishment, yet not renewable!
$1,998